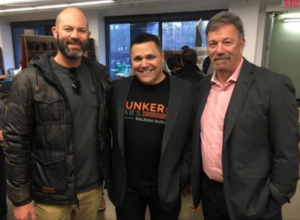 Self-reliance at Bunker Labs, 02/10/2017 (L to R) Joe Sheridan, Dean Bundschu, and Joe Sheridan Sr.
Last week, Joe Sheridan was the keynote speaker of the Bunker Labs event in Durham, North Carolina. Over 100 war veterans were in attendance. His presentation focused on the things he believes in the most: self-reliance, and the entrepreneurial pursuit. Joe was the perfect "veteran" speaker, as both a Vietnam War Veteran, and as a 25-year veteran of the sports industry.
With insight spanning decades, careers, and combat missions, Joe explained how his experience as a HueyCobra pilot shaped his career in the sports industry.
Survival Skills
Survival skills are some of the most valuable skills that veterans have in their personal inventory. They prepare veterans for the transition from the military environment into the business world. Things like process and regimentation become adaptability and accountability in the workplace. These survival skills are as the cornerstones of self-reliance, the single most important aspect of the entrepreneurial pursuit.
Joe tells veterans they have what it takes to be in a business environment. Survival skills like split-second decision-making come naturally to them. In fact, veterans have a fully-stocked arsenal of skills that can become invaluable talents. He shares the key to unlocking these assets for a new life and career path:
"The daily need to recreate yourself in the business world." Joe Sheridan
Joe knows a lot about recreating oneself, especially with 500 combat missions under his belt. With no two missions or situations alike, he's a shining example of turning survival skills into entrepreneurial tools. His daily commitment to recreating himself has proved rewarding in more than one way. Joe has risen to the top rungs of the sports industry, and has accumulated over $5 million in sales for his own independent sales agency.
Self-Reliance
Joe's business acumen emerges from a place of self-reliance. Having spent years flying a single-engine support and attack helicopter, he understands the importance of "oneness"– one engine, one man, one plan.
His message to veterans at the Bunker Labs event was that it is possible to become the master of your own professional destiny. Joe's years as a helicopter gunship pilot made him realize he has control over some things, but not everything. He encourages veterans to seize what they can control, and to run with it. When nobody creates your experience except you, then self-reliance becomes the driving force of your career.
Joe explains that survival comes from within. Whether it's in combat, or in an office, veterans can rely on what they already have to aspire to great new things. Embracing self-reliance begins the path of personal growth. With enough dedication and spirit, it can lead to professional success. Joe cites that the life lessons from military service become life-long survival skills for business.
The Entrepreneurial Pursuit
So how do survival skills and self-reliance merge into the entrepreneurial pursuit? Of course the pursuit can begin at any time, but it takes entrepreneurial spirit to put things in motion. Joe can tell you that anyone can sit in the cockpit of a HueyCobra, but it takes a special person to pilot the helicopter.
Veterans have exactly what the American workforce needs, according to Joe. Independently-driven individuals excel in the workplace, but Joe encourages veterans to create their own space. Early in his career, Joe worked in the corporate realm of the sports industry. He tells how he broke free by taking all of his skills and knowledge, and investing them into a company of his own. When asked how he stayed on track to become the number-one sports sales agent recruiter, Joe brings it all back to one thing:
"Self Reliance"
It's easy to see how Joe inspired the room to embark on their own entrepreneurial pursuits. The honesty and conviction of Joe's words resonated in the room. The heartfelt conversation to an audience of one-hundred people suddenly became a one-on-one conversation with each veteran. It became personal as much as it was professional.
Even when the speech ended, the conversation continued. Veterans approached Joe one after another, sharing their own stories. Many of them thanked Joe for inspiring them to pursue new paths. The atmosphere of the room had changed, for the better, thanks to the empowering words from Joe.
The Take-Away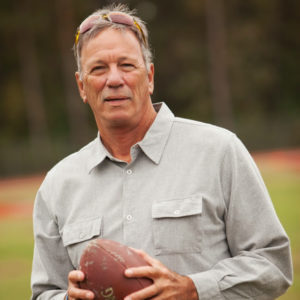 Joe Sheridan Sr. CEO of Sher-Co
Joe encourages veterans to discover their potential through self-reliance. Entrepreneurship is a challenge as much as it is a journey, and with the right tools, Joe believes veterans can succeed. Since many of those tools are already there, it's only a matter of unlocking that potential, and piloting their own helicopters. Survival like success, comes from within.